---
Model SB250
Recommended Solids Capacity: 1-10 t/h.
Approximate Slurry Capacity: 20 m3/hr. 
Concentrating Surface Area: 0.17 m2.
G-Force Range: 
Motor: 3 HP high efficiency TEFC electric motor.
Process Water Consumption: 1.8-2.7 m3/hr.
Continuous Water Supply Pressure: 2-3 bar.
Recommended Max Feed Particle Size: 2.0 mm / 2/25 in.
Absolute Maximum Particle Size:  2.5 mm / 1/10 in. 
Maximum Feed Percent Solids: 55-70%.
Concentrate Slurry Slush Volume: 50 l.
Concentrate Solids Flush Volume: 1010 cm3.
Dimensions: 3.4 ft. X 2.2 ft. X 3.34 ft.  
Includes:

E1022 screen/keypad.
Mitsubishi PLC.
VFD and dynamic brake with standard Falcon control software capable of remote monitoring by customer.
110V control transformer, relays, selector switches, indicator lamps, breakers, and isolators.
Single NEMA 3R panel

Rotor: Two stage rotor with polyurethane stratification zone.
Concentrate Basket: Replaceable UHMW concentrate basket retention zone.
Frame: Heavy duty structural steel frame with oversized shaft, sealed bearings and gear box drive.
Features:

Rubber lined tailings launder, removable domed lid and impeller.
Central feed pipe, rinse manifold and inspection ports.
Fluidization piping including water strainer, pressure reducing valve, rotating union & pressure gauge.
PRV, flush and rinse solenoids all wired to machine junction box.

Weight: 584 lbs/265 kg.
Only 1 unit available. 
View more Centrifugal Gold Concentrators
FALCON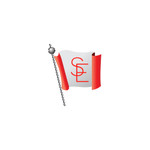 Customers Also View: