---
Model: CF-5 WHIMS.
Volts: 115.
Hertz: DC.
Amps: 15.217.
Separator will generate a maximum magnetic field strength of approximately 8000 gauss in the open-air gap or approx. 20,000 gauss in the center of the matrix.
Annular separating ring will secure the matrix. Ring complete with matrix and drive table.
Stationary discharge tray located beneath the ring segregates the nonmagnetic, middling, and magnetic products. Discharge tray incorporates movable dams for the concise splitting of the products.
Matrix is 400 series Stainless steel Medium Expanded Metal Matrix (MEX).
Electromagnetic coil will draw 1350 watts at 115 VD .
Coil controlled with Model 15C41 variable rectifier in Nema 12 enclosure.
Rectifier houses variable speed drive control.
Control box input voltage:
Separating ring driven by ¾ HP Motor.
Weight: 2,685 lbs.
View more Magnetic Separators
ERIEZ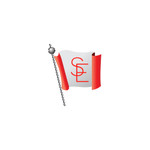 Customers Also View: